Cameras at the ready. Crail is one of the most photographed and admired little fishing villages along the East Neuk of Fife and the UK. It holds a treasure trove of beautiful walks, views and experiences to enjoy. Stay in one of Premier Stays Fife's handpicked local properties and soak up the vistas in this quirky, historic village.

Step inside a picture postcard view
Strolling through the narrow winding lanes of Crail feels like you have stepped inside a picture postcard of a fishing village. Many visitors here come to walk the beautiful Fife Coastal Path and enjoy the two golf links courses at the Crail Golfing Society. Their oldest course, Balcomie, was formally laid out by Tom Morris Senior in 1894. Ancient competition records show golfers have been playing there since the 1850s.
Back in the village, it's easy to wind your way down towards the sea, with Crail's picturesque harbour and medieval Shoregate your reward. You are never far from stunning open views across the Firth of Forth and the North Sea beyond.
The perfect lunch spot
Open all year round, Crail Harbour Gallery can be found on the cobbled street that runs down to the harbour and is located in the cellars of a 17th-century fisherman's cottage. Alongside lovely local artist paintings, prints, cards and gifts, there is an exceptional little tearoom surrounded by original stone walls, flagstones and exposed beams.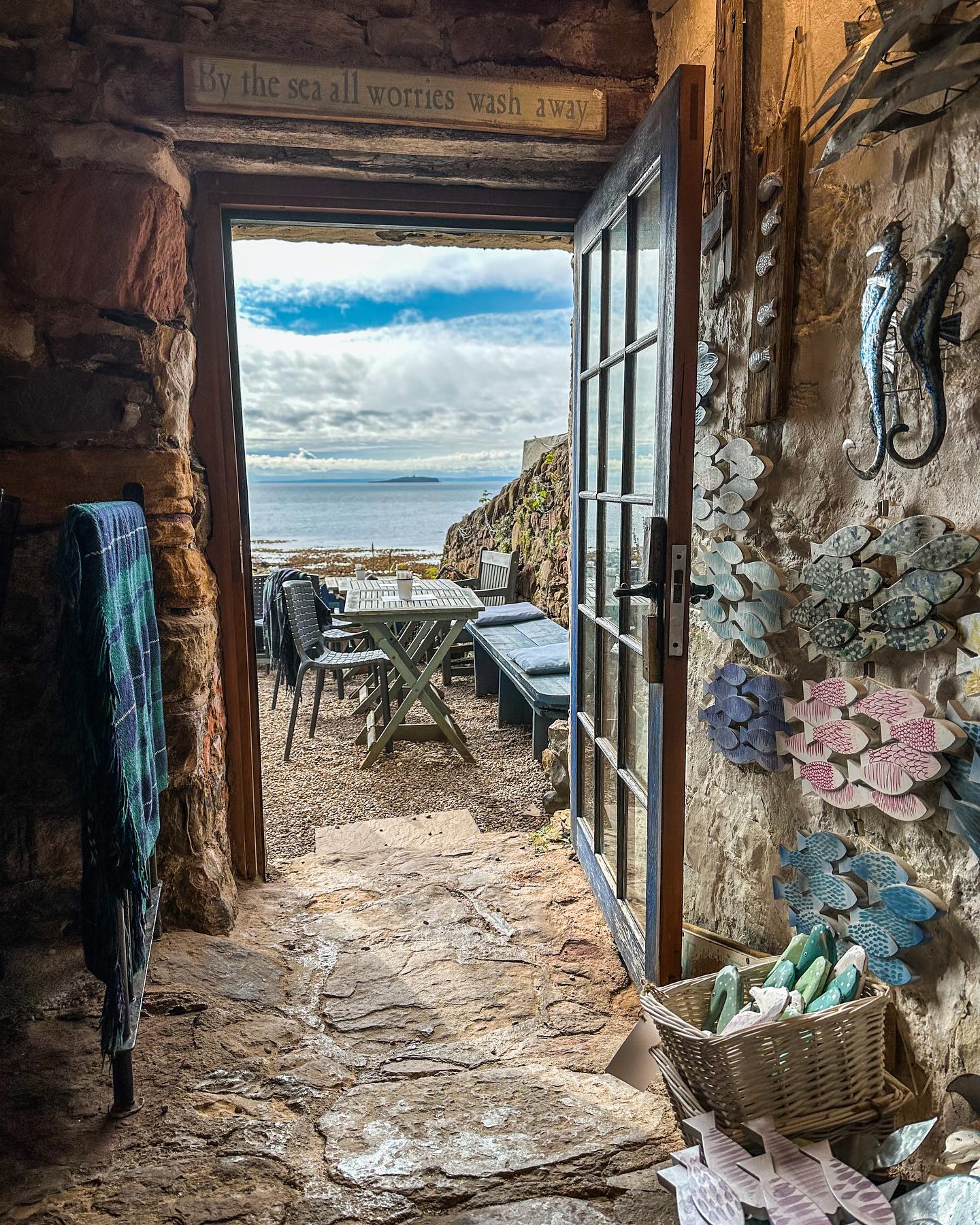 In addition, there is a secluded little courtyard with uninterrupted views across the water to the Isle of May. Wool rugs are on hand to keep off the sea breeze, and freshly brewed teas and coffees, homemade soups, and cakes soon take away any chill in the air. Visitors enjoy salads, sandwiches, and ice creams in the summer. Also, takeaways from here and Dan's Goods are handy for those only needing a quick stop on their walk along the Fife Coastal Path.
Fresh produce as a way of life
Once, Crail was the biggest fish market in Europe and the most productive seaport in the area. Although that is lost to history these days, food production remains what has driven generations of brewers and fishermen in Crail and continues to be the working heart of village life today.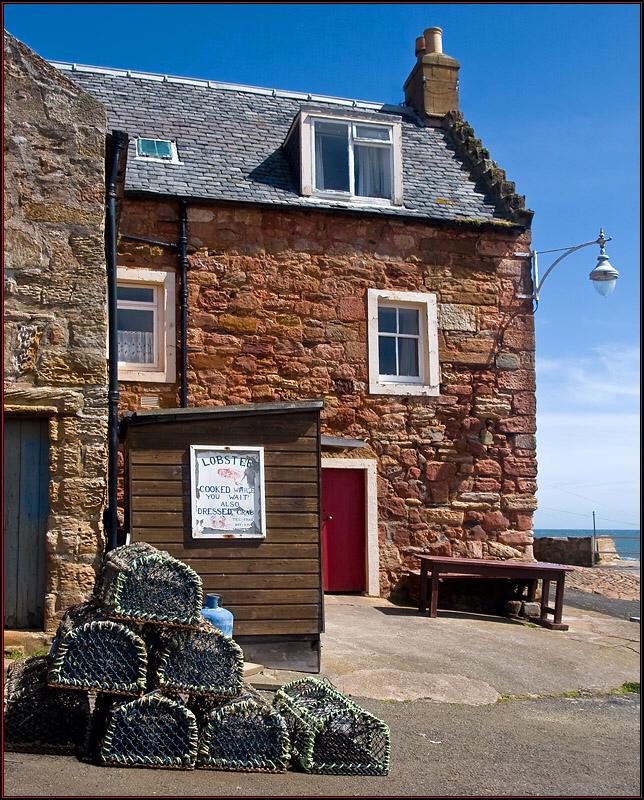 Without a doubt, in the summer season, you can enjoy freshly caught dressed crab and whole lobster at The Lobster Hut. This shack has been serving fresh seafood since the 1970s (at least!), and their crab and lobster rolls served on freshly baked Fisher and Donaldson bakery rolls are famous in these parts. In June each year, the village throngs with visitors as it hosts the Crail Food Festival. It is a celebration and collaboration between local producers who work tirelessly throughout the year to harvest the finest local ingredients for locals and the global market.
"Producers are busy all around year round, netting prawns, harvesting grains, creating oils, distilling gins, perfecting the fruit and veg, potting crabs and lobster, baking cakes, tending the animals and melting chocolate so that we can all enjoy the wonderful taste that is Crail."

Crail Food Festival 2022
Family-run pottery fun.
Also, right in the heart of Crail, you can find a family-run, highly skilled local pottery, Crail Pottery. Two generations of the family here welcome visitors to see them create numerous ceramics and earthenware in their downstairs working pottery. Feel free to ask questions and observe this traditional skill before heading upstairs to see the finished, glossy works of art for display and purchase.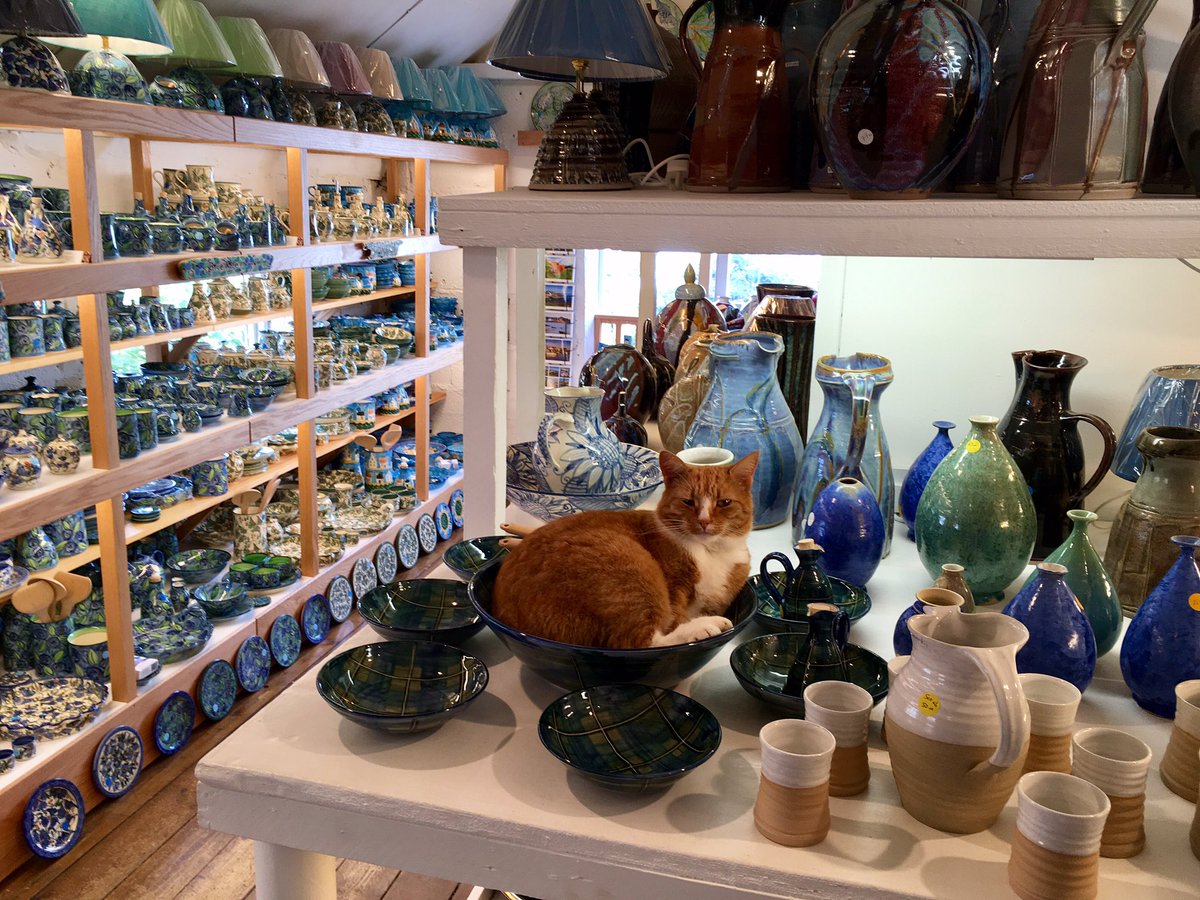 Crail is quite simply a slice of coastal perfection. With warm Scottish hospitality and magnificent natural harbour coves to explore along this coastline, the East Neuk is somewhere to add to your bucket list.
Our award-winning team at Premier Stays Fife look forward to welcoming you to the East Neuk and finding you your perfect seaside getaway in Fife. Find our other local area guides here.
Hand-selected properties supplied by us, memories made by you.
Simona, Marius and all the team.