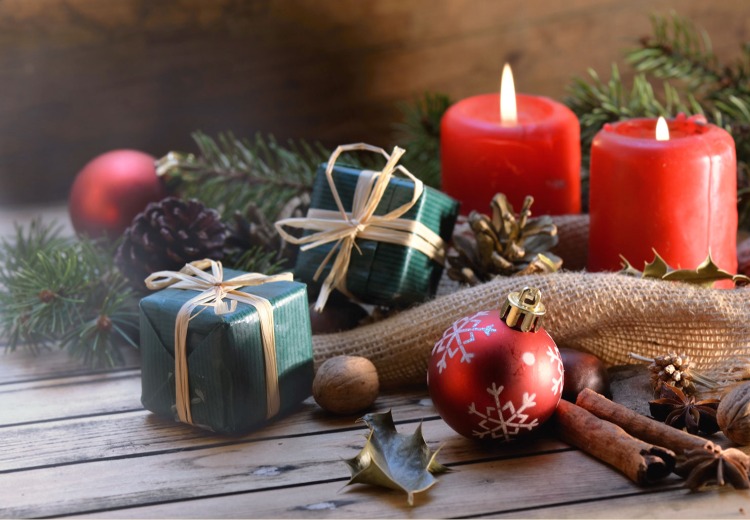 It's back! Santa's Grotto at Scottish Dear Center in Fife
Visit Santa Claus in his cave and add some magic to your season for just £15.95 per child. The Scottish Deer Centre presents a Scottish Winter Wonderland display that the whole family can enjoy this Christmas. Children who visit Santa will receive an age-appropriate gift they can open before Christmas, with Santa's special permission granted! Meet Santa's favourite friends and capture memories that will last a lifetime. Warm your hands around the open fire while toasting marshmallows and listening to Christmas stories one of Santa's elves read. Don't forget to check out the Christmas Shows and Pantos taking place throughout November, December, and January.
What Christmas Markets are worth visiting this year?
This year, several Christmas markets are worth visiting, such as Vienna, Prague, Cologne, and Strasbourg. Each market offers unique experiences, from delicious food and drinks to handmade crafts and festive entertainment. Discovering the perfect Christmas gift is an adventure waiting to be embarked upon at your local market.
The festive season is upon us, and what better way to embrace the holiday spirit than by exploring local Christmas markets? Fife, nestled in the heart of Scotland, is home to a wide range of markets that offer unique gifts, delicious food, live entertainment, and a truly magical atmosphere. In this blog, we will take you on a journey to discover the local Christmas markets of Fife, where you can immerse yourself in the festive spirit, meet talented makers, and find the perfect gifts for your loved ones. So, please grab a cup of mulled wine, get cosy, and let's unveil the magic of Fife's Christmas markets. Be sure to follow us on Facebook, Twitter, Instagram and TikTok or sign up to our newsletter to be the first to find out.
Unveiling the Magic of Fife's Christmas Markets
As you wander through the streets of Fife's towns, you'll be enchanted by the festive atmosphere that fills the air. The charming lights, live entertainment, and street performers create a magical experience that will transport you to a winter wonderland. Whether strolling through the high street or exploring market stalls, you'll immerse yourself in the Christmas spirit.
Bowhouse December Market Weekend, Anstruther
The Bowhouse December Market Weekend in Anstruther is a must-visit event for anyone interested in the festive spirit. This charming market brings together local artisans, farmers, and food producers to showcase their creations and products. From handmade crafts and unique gifts to delicious local produce and mouthwatering treats, there's something for everyone at this delightful market. Stroll through the stalls, chat with the vendors, and discover the stories behind each product. The warm and friendly atmosphere will make you feel right at home, and you'll leave with a heart full of holiday cheer and a bag full of treasures. Don't miss out on this wonderful opportunity to support local businesses and experience the magic of the Bowhouse December Market Weekend on Saturday 2nd December!
 East Neuk Christmas Market, St Monans
The East Neuk Christmas Market in St Monans is a delightful holiday event that brings together local artisans, craftsmen, and food vendors to create a festive atmosphere for visitors of all ages. Located in the picturesque coastal town of St Monans, the market offers a unique shopping experience where you can find one-of-a-kind gifts, handmade crafts, and delicious treats. As you wander through the stalls adorned with twinkling lights and decorations, you'll be greeted by friendly faces and warm smiles. The market showcases the talent and creativity of the local community while supporting small businesses and promoting sustainable practices. From beautifully crafted ornaments to locally sourced gourmet foods, there's something for everyone at the East Neuk Christmas Market. So come along and immerse yourself in the holiday spirit as you explore the charming stalls and soak up the festive atmosphere of this magical event.
Christmas Artisan Craft Market, Lower Largo
The Christmas Artisan Craft Market in Lower Largo is a festive celebration of local talent and creativity. Held annually, this market brings together a wide array of artisans and craftsmen from the surrounding area, offering visitors a unique opportunity to discover one-of-a-kind handmade treasures. From beautifully crafted ceramics and textiles to hand-carved wooden ornaments and intricate jewellery pieces, there is something for everyone at this delightful market. The warm and friendly atmosphere adds to the event's charm as local vendors showcase their passion for their crafts and share stories behind their creations.
Balgove Larder St Andrews famous Night Market
Escape the chaos of holiday shopping and embrace the magic of the season by visiting the Night Market. Enjoy delicious food from our wood-fired BBQ and favourite food, sip on a warming drink, and browse through local offerings while listening to live music.
You'll find a variety of unique gifts, from hand-poured scented candles and festive preserves to cosy woollens and locally made spirits. You might even find something special for yourself!
Falkland Christmas Market
The Falkland Late Night Market is the perfect place to fulfil all your Christmas shopping needs. With a diverse range of local makers, artists, crafters, bakers, brewers, and distillers, you'll find unique and thoughtful gifts for everyone on your list. The free and easy parking makes it convenient to shop at your leisure, while the wonderful festive atmosphere adds an extra touch of magic to your shopping experience. Don't miss out on this annual event that brings together the best of Falkland's creative community. Visit the Falkland Late Night Market and discover one-of-a-kind treasures that will make this holiday season truly special.
The Festive Atmosphere of Fife's Towns
Immerse yourself in the festive spirit with free events like The Aberdour Christmas Event and Frost Fest in Leven. Delight in the charming Christmas lights at Fife's local markets, and start your Christmas shopping at St Andrews Heritage Museum. Don't miss the Christmas Swag Workshop at Kellie Castle and Gardens or the Festive Fairy at St Andrews Botanic Garden.
Join us at St Fillan's Church Hall for a festive celebration! On Saturday, December 16, 2023, at 2:00 PM GMT, we'll kick off the holiday season with an event that promises to fill your heart with joy and excitement.
Immerse yourself in the joyful atmosphere of Christmas as we have a wide range of activities planned just for you. From enchanting live performances and carol singing to delicious treats and delightful surprises, this event is designed to bring smiles to the faces of young and old alike.
Explore our festive shops to find unique gifts and crafts for your loved ones. Visit our local pubs and restaurants and indulge in mouthwatering seasonal treats and warm beverages, keeping you cosy and satisfied throughout the event.
Mark your calendars and gather your loved ones for a day filled with merriment and cheer. The Aberdour Christmas Event is the perfect way to kick off the holiday season and create unforgettable memories with your family and shortbread to international delicacies such as German bratwurst sausage.
Unique Finds at Local Stalls
At Fife's Christmas markets, local businesses showcase unique gifts, decorations, and accessories. There's something for everyone, from handmade jewellery to ceramics, textiles, and homeware. Explore the stalls, chat with the creators, traders, and stallholders, and discover unique treasures like Christmas gifts you won't find anywhere else. Supporting local businesses has never been more rewarding, and shopping at Fife's Christmas markets is a great way to do just that.
Experiencing Christmas Culinary Delights
As you meander through the festive stalls, the delicious aroma of traditional Christmas food will tickle your senses. Fife's local markets offer various culinary delights, making it the perfect place to savour the festive season.
Savouring Traditional Christmas Foods
Indulge in the flavours of the festive season by savouring traditional hot food and delicious festive treats. Fife's local markets have everything from chestnuts roasting on an open fire to hearty winter stews. Treat yourself to a hot plate of The Godfather at Stewarts Resort, or head to Forgan's in St Andrews for their special Christmas events. The options are endless; each bite will transport you into a world of festive flavours.
No Christmas market experience is complete without indulging in delicious homemade bakes, sweets, and festive treats. From gingerbread houses to mince pies, there's no shortage of festive goodies to satisfy your sweet tooth. Be sure to try the delicious homemade festive bakes, sweets, and treats local stallholders offer in the city centre. After all, what better way to embrace the festive spirit than with a mouthwatering bite of something sweet?
As winter sets in, there's nothing better than sipping on a hot beverage to warm up from the inside out. Fife's local markets offer various festive hot drinks, mulled wine, and warm winter beverages. Take a break from shopping, find a cosy spot, and savour every sip of these delightful concoctions. It's the perfect way to recharge and continue your festive market adventure.
Meet the Artisans Behind the Crafts
Beyond the stalls and market lights, talented makers are waiting to share their craft with you. At Fife's local markets, you'll have the opportunity to hear the personal stories of local artisans, creators, traders, and stallholders. Discover the inspiration behind their unique creations, learn about their craft, and discover what makes each piece unique. These interactions add depth and meaning to your shopping experience, making it all the more memorable.
Enjoying Carols, Singing and Street Performances
Enjoy Christmas by enjoying live carol singing, street performances, and the enchanting sounds of live music at Fife's local markets. The magical sounds of carols fill the air, spreading joy and festive spirit to all who listen. As you stroll through the market, stop and enjoy the live entertainment, letting the music transport you to a place of holiday bliss.
Joining in Fun-filled Family Rides
Fife's local markets offer a wide range of family-friendly entertainment, including fun-filled rides that delight children of all ages. From festive fairground attractions to Santa's grotto, there's no shortage of activities to keep little ones entertained. Join in the festive fun, create treasured memories, and embrace the season's joy with your loved ones and the magical experience with Mrs Claus and her elves at the Rochester Christmas Market.
Experiencing the Joy of Gift-Giving
While shopping for gifts, you'll not only find unique treasures, but you'll also experience the joy of gift-giving. Witnessing your loved ones' excitement as they unwrap a thoughtful present is priceless. At Fife's local markets, you'll find a wide range of unique and handmade gifts, ensuring that each is special and tailored to the recipient's taste. So, take your time, explore the stalls, and discover the perfect gifts that will bring joy to your loved ones this festive season.
Find Your Nearest Christmas Market
Now that we have unveiled the magic of Fife's local markets, it's time to find out where you can experience this festive wonderland.
Experience the enchanting spirit of the season at Fife's delightful Christmas markets. Show your support for local businesses as you wander through the charming market stalls. Take delight in the free entry, savoury hot food, delightful face painting, and the convenience of free parking. Immerse yourself in the festive ambience, explore unique gifts, and relish the joyous events and live entertainment. Indulge in a memorable holiday shopping experience.
Planning Your Visit – Dates, Timings, and Recommendations
To make the most of your visit, mark these dates on your calendar: November 19, November 26, and Sunday, December 3, when local markets will be in full swing. These markets are perfect for finding unique gifts, delicious food, and festive entertainment. Plan your visit, check the market timings, and arrive early to beat the crowds. Parking can be limited, so carpooling or using public transportation is recommended.
Have You Ever Wondered About the Origins of Christmas Markets?
As you immerse yourself in the festive spirit of Fife's local markets, you may wonder about their origins and historical significance. Christmas markets have a rich history, dating back to the Late Middle Ages in Europe, where they were initially held to celebrate the countdown to Christmas. Today, they continue to bring communities together, spreading joy and festive spirit and supporting local businesses.
Conclusion
In conclusion, Fife's Christmas markets offer a magical, festive atmosphere perfect for creating cherished holiday memories. From the unique finds at local stalls to the mouthwatering culinary delights, there is something for everyone to enjoy. Don't miss the opportunity to meet the talented artisans behind the crafts and participate in seasonal activities like carol singing and fun-filled family rides. Plan your visit carefully, taking note of the dates, timings, and recommendations to make the most of your experience. So, gather your loved ones and head to Fife's Christmas markets to discover the joy of gift-giving and immerse yourself in the season's true spirit.